Spirit Wear
Bibich Spirit Wear is now available year-round! 
We're excited to partner with Hoosier Sports of America (which is owned by LC teachers) to offer a variety of t-shirts and hoodies in both youth and adult sizes. You can even get your very own Bulldog pajama pants to wear for PJ Day. 
When you use the link below to shop, the PTO will receive a portion of each sale.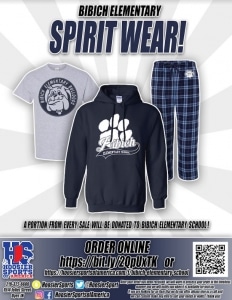 About the PTO
Bibich's Parent Teacher Organization strives to support, strengthen, and encourage the education of our children by fostering relationships among the school, parents, and teachers.  Our primary objective is to provide volunteers and financial support to enhance the educational environment of our children.
The key to a successful PTO is the involvement of our entire school community.  For many, it may be supporting our fundraisers, being a head room parent or volunteering time at an activity or event.  For others, it might be chairing an activity or serving on the PTO Executive Board.  Some of the activities and events we are involved with require time, money and lots of effort.  There are so many ways to become involved in the PTO and we need your help!